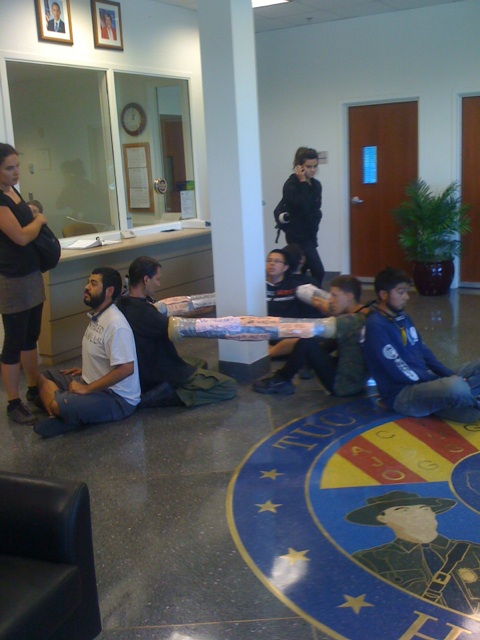 Six activists locked down inside the border patrol's lobby here in Tucson, and they all were cited and released. Just walked away, and felt damn good about it. They won the local news cycle, sending racist cops a strong message. But they didn't expect to get away, and our sources say they were prepared to sit in jail at least through the weekend. Anybody planning similar actions should be similarly prepared.
The new EF! UK Action Update is out. Here's the print version. Both are in PDF.
Support GI Resistance by attending the UXO Tour!
We got the mountain defenders' bail reduced to $2500!
Martin and Bryant were offered a deal of 5 days time-served and 55 days community service, along with the conditions that they remain on house arrest for the 55 days, leaving only for community service hours, and plead guilty to trespass and conspiracy.

Bryant took the deal and will be getting out of jail Monday. EmmaKate did not immediately take the deal.
Like in Tucson, the theme here in WV is be prepared. These CGZ folks made the decision to intentionally go to jail for their beliefs, and that's what happened. They were mentally and physically ready for it (hopefully). At least one is also under house arrest for awhile. They apparently believe that blocking Massey's Road for a minute, and the media coverage that comes with, is worth the next 60 days of their lives. We've heard that more people with such strong convictions are needed out in the mountains, because MTR SUCKS.
The first EF! Journal Release Party will take place in Florida!
The Everglades EF! Journal release party is 5/24 Monday, 7pm at the Night Heron Grassroots Activist Center, 1307 Central Terrace.

We will be commemorating Judi Bari's life and work, as well as celebrating to EEF! folks whose legal matters (panagioti and stevie) have been resolved, without going back to jail. Both got out of jail on appellate bonds from actions against FPL (who are now calling themselves 'NextEra Enrgy'), for the WCEC and Barley Barber.

And finally, we will be discussing the 'Skunk Ape Proxy' featured in the new EF!J.
Farmers in Haiti have committed to burning 475 tons of genetically modified, pesticide-treated FrankenCorn Seed donated by Monsanto.
Maybe we should just eat industrially farmed bugs.
The Big Oil Spill sludges onward.
The Richardson Grove EIR has been released by CALTRANS. It of course finds "no significant impact on the human environment." Well, some environmentalist humans in Humboldt think otherwise and are still set for an action camp on 28 May.
Some EF!ers are having a Regional Rendezvous in the Globe Forest in NC. Seems like a pretty good operation they've got out there, with a great website full of great information. It's at least an even bet that they'll save that forest out there. Forest defense has a lot of potential in the South, which is being deforested faster than any other US region, especially when it's fresh like in WV, with tactics the locals haven't necessarily seen before. And on that note, we found this on their blog and thought it worth re-posting:
Top Ten Endangered Areas in the South for 2009:
Clinch and Powell Rivers (Virginia) Issue: Construction of a new coal-fired power plant in Wise County will accelerate mountaintop removal mining in Appalachia, and further increase mercury levels in the Clinch and Powell rivers.
Interstate 81 Corridor (Virginia) Issue: Virginia officials are reexamining a plan to widen all 325 miles of I-81 to perhaps eight lanes to support long-haul truck traffic – a plan that would cost billions of dollars and cause tremendous harm to communities and historic, scenic, and environmental resources.
Marine Waters (Virginia) Issue: Virginia is the first state in our region to begin the process of opening up its marine waters to offshore drilling for oil and gas. The benefit of this short-term supply of energy is dramatically outweighed by the harm to the environment and communities.
Globe Forest (North Carolina) Issue: Destruction of rare, old-growth forest in the Southern Appalachians.
Pamlico River (North Carolina) Issue: The single largest destruction of wetlands in North Carolina's history will occur if a phosphate mining company gets permission to expand its operations on the river's banks.
Great Pee Dee River (South Carolina) Issue: Santee Cooper, a state-owned utility, is proposing to build more coal-fired power plants with outdated technology that would dump an additional 300 pounds of mercury into an already mercury-overloaded river.
Johns Island (South Carolina) Issue: A $420 million highway proposal threatens to bring large-scale development to this historic community, transforming the island into a sea of condos, mega-stores, and traffic.
Salt Marshes (Georgia) Issue: Large-scale development on biologically rich islands and tidal waters.
Weeks Bay (Alabama) Issue: Unchecked development and weak regulation threatens an area so unique it is one of only three in Alabama to receive the designation of Outstanding Natural Resource Water.
Cherokee National Forest (Northeast Tennessee) Issue: The U.S. Forest Service is moving forward with its plans to log several areas of this remarkable landscape, endangering trout, unbroken wildlife habitat and rare species."