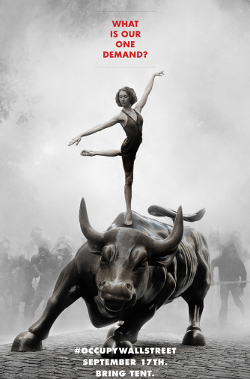 On the 17th of September, they want to see 20,000 people flood into lower Manhattan, set up tents, kitchens, peaceful barricades and occupy Wall Street for a few months. Once there, we shall incessantly repeat one simple demand in a plurality of voices and they say they will not leave until that demand has been met….
Find out more or learn how to get involved with the on-the-ground organizing here.
An excerpt of the recent update from the folks at Adbusters, who first sounded the call, follows:
"Hey you rebels, radicals and utopian dreamers out there,
We are living through a rare crisis and moment of opportunity. Western industrialized nations are now being masticated by the financial monster they themselves created. This is triggering a mood that alternates between angry denial and sudden panic. It looks like something is about to break, opening the space for a necessary transformation and a total rethink of global economic affairs. Events are playing perfectly into our September 17 occupation of Wall Street…. See you on Wall St. Sept 17. Bring Tent.
for the wild, Culture Jammers HQ" 
[EF! Newswire Ed. Note: For the wild… we love it! Hats off to our friends at Adbusters. Perhaps we should take a break from laying out the next Earth First! Journal and head for Wall Street too.]