Holy shite! Things have been going off in Scotland's Douglas Valley.
Starting July 11, folks with the Coal Action Scotland crew occupied Scottish Coal's new opencast mine site, Glentaggart East, for Take Back the Land! – a week of action against the destruction of opencast mining.
By July 14 a group of 45 activists had invaded Scottish Coal's Mainshill Open Cast Coal Site near Douglas, South Lanarkshire, and shut it down for the day. Machines including a "prime mover" were occupied and all work was stopped completely.
On July 16 Broken Cross opencast site in the Douglas Valley was blockaded for an hour and a half before Scottish Coal workers overseen by Strathclyde Police lifted three people in heavy concrete lock-ons out of the road.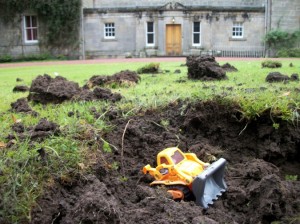 Two days later, activists from Take Back the Land! visited Lord Home's mansion in the Douglas Valley and "opencasted" his garden, hoping to bring the issues closer to home for him. Lord Home owns Mainshill and Glentaggart East.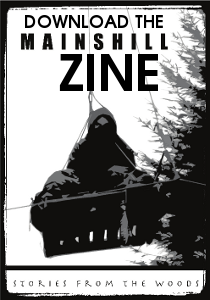 For a history of the recent direct action campaign to stop coal mining in the Douglas Valley, we highly recommend downloading the Mainshill zine.