As some of you may have noticed, the Journal collective has been hard at work coming up with new ways to make this project exciting for you to support. Before the COVID-19 pandemic even impacted us this year, our website had to change to a new URL, and we were unable to sell anything on our store or post on our website for months before that due to years of technical difficulties and rampant Luddism among EF!J editors. Just as we were starting to gain some momentum after we left the Organizers Conference, with the 40th Anniversary issue in our sights for a late spring release and a fast-and-loose plan for a Michigan summer gathering, word of the coronavirus outbreak was making international news. With the end of the world at our doorstep, as well as all of our contributors', it became apparent that we would not be able to meet the deadlines, desires, and expectations we had for the Anniversary issue, and decided to just push it all the way to a summer release. And before long came the George Floyd rebellions, and we decided that our 40th Anniversary should not compete with all of the amazing events of 2020 which we have not yet featured in the EF!J. So a (yes, still late, sorry!) Summer 2020 issue is in the works now, and we will have an Anniversary issue next.
With the pandemic also came the cancellation of book fairs and events around the world, the closing of bookstores and infoshops, and the uncertain future of the value of the dollar (or an Earth First! Journal subscription). These, among other things we won't bore you with (yet…), have led to finances being especially stressful for EF!J in 2020. Beyond that, we are making an extra special, extra long (read: extra expensive) 40th Anniversary edition of the Journal this fall. As much as we hate to talk about it, we need some serious financial support to keep this historical project alive to see a 50th Anniversary, or even Earth First! Journal Volume 41 for that matter. As we find our path forward, we appreciate your continued support and patience. Below are some spotlights on our latest forays into the digital marketplace, since we realize our new website still has its kinks, and our online presence may not be as cohesive as we hope.
We have a super sweet 40th Anniversary compilation CD ready to be sent to production and a limited edition run of 40th Anniversary shirts already underway.
We know you all will LOVE the CD and can't wait for it to be in your hands. We are saving up those preorder sales to pay to have the CD actually made, so you will certainly be hearing about it again. Check out the album art and track list below: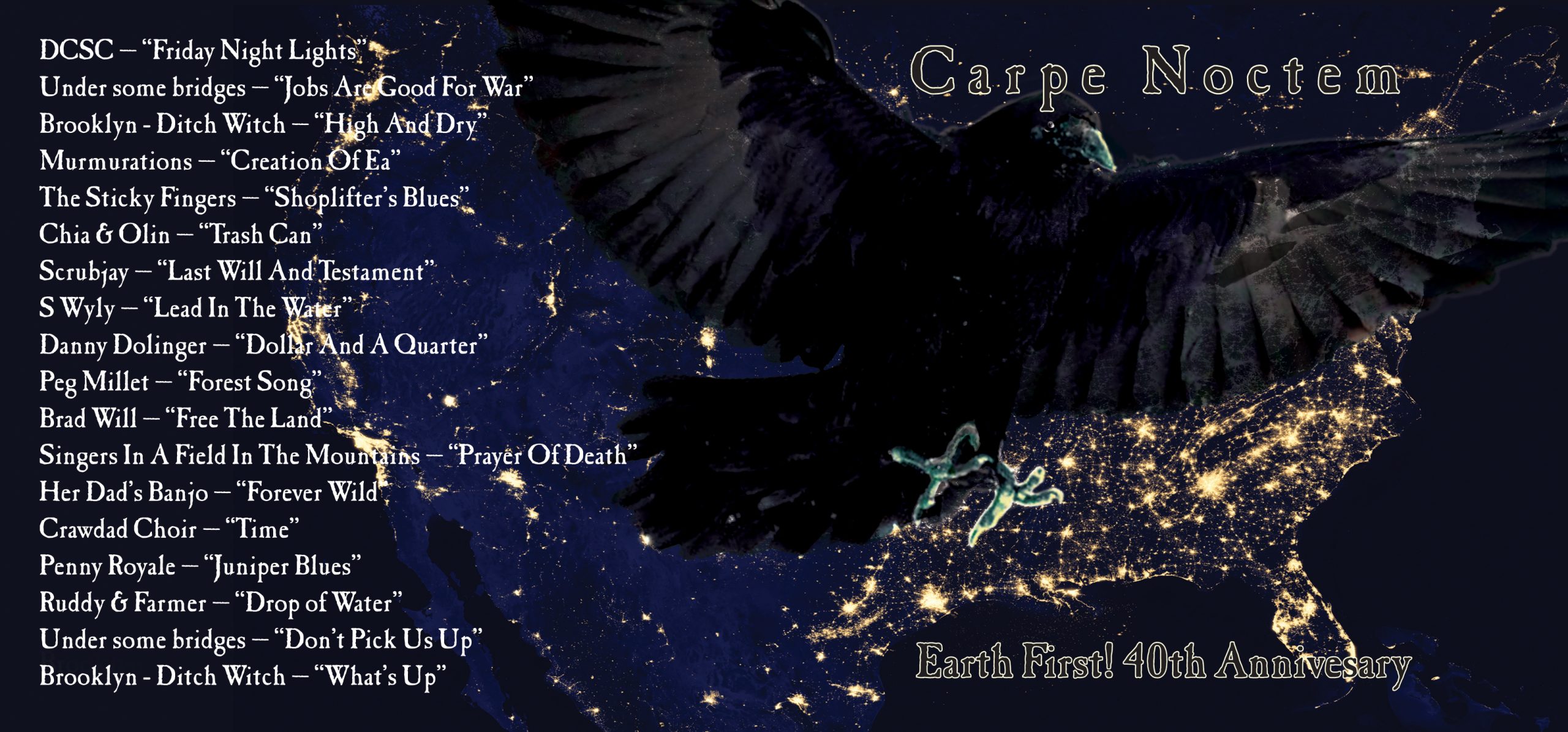 Click the image above to preorder the CD!
We are also very excited about the shirts we ordered, which feature Asante Riverwind's art from the cover of the first edition of the Direct Action Manual. That's right, we will finally have a new black T-shirt design, and it will feature a classic Earth First! illustration from the DAM. Here's that graphic:
Click the image above to preorder the T-shirt!
We know all this limited edition stuff is fun, but we really wanted to find ways to make our merchandising more engaging for the long-term. We are surrounded by tons of old magazines, T-shirts, and stickers here in the office. Only a minute of browsing our archival hard drive can yield heaps of unexpected old Journal content and hilarious graphics. Our new mystery bundles we have been putting together are our way of sharing that addictive spontaneity of popcorning through EF! history along with the EF! content and merch we are expected to provide.
The first bundle includes a random assortment of: EF! shirt in a size of your choosing, one patch, one sticker, and one button. Click the image below to order one!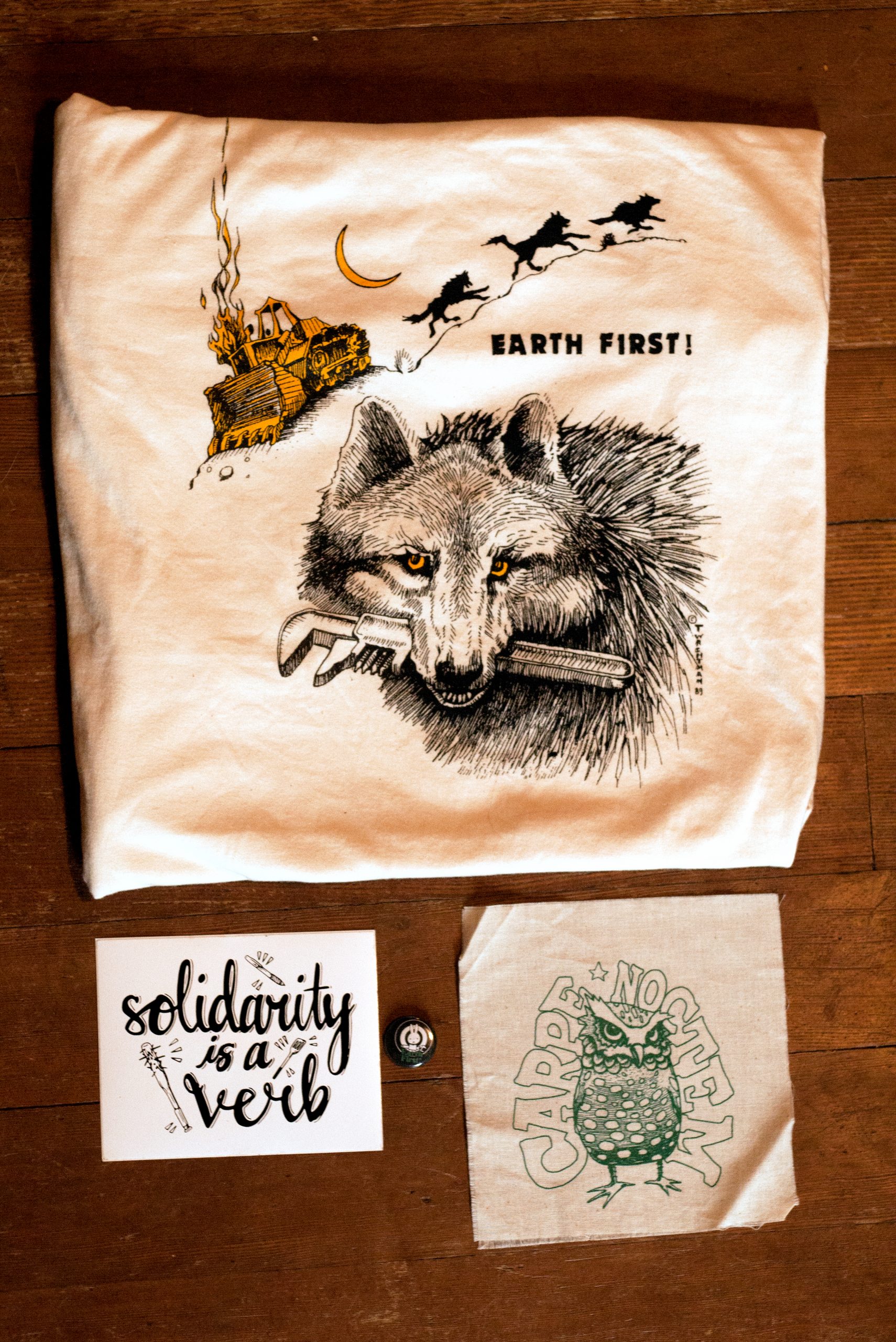 The second bundle includes three back issues of the EF!J and four random stickers. The great thing about this bundle is you might get one Journal from all the way back in 2010, and then right next to it you may have one from as recent as 2019. Plus, stickers! Click the image below to order this bundle: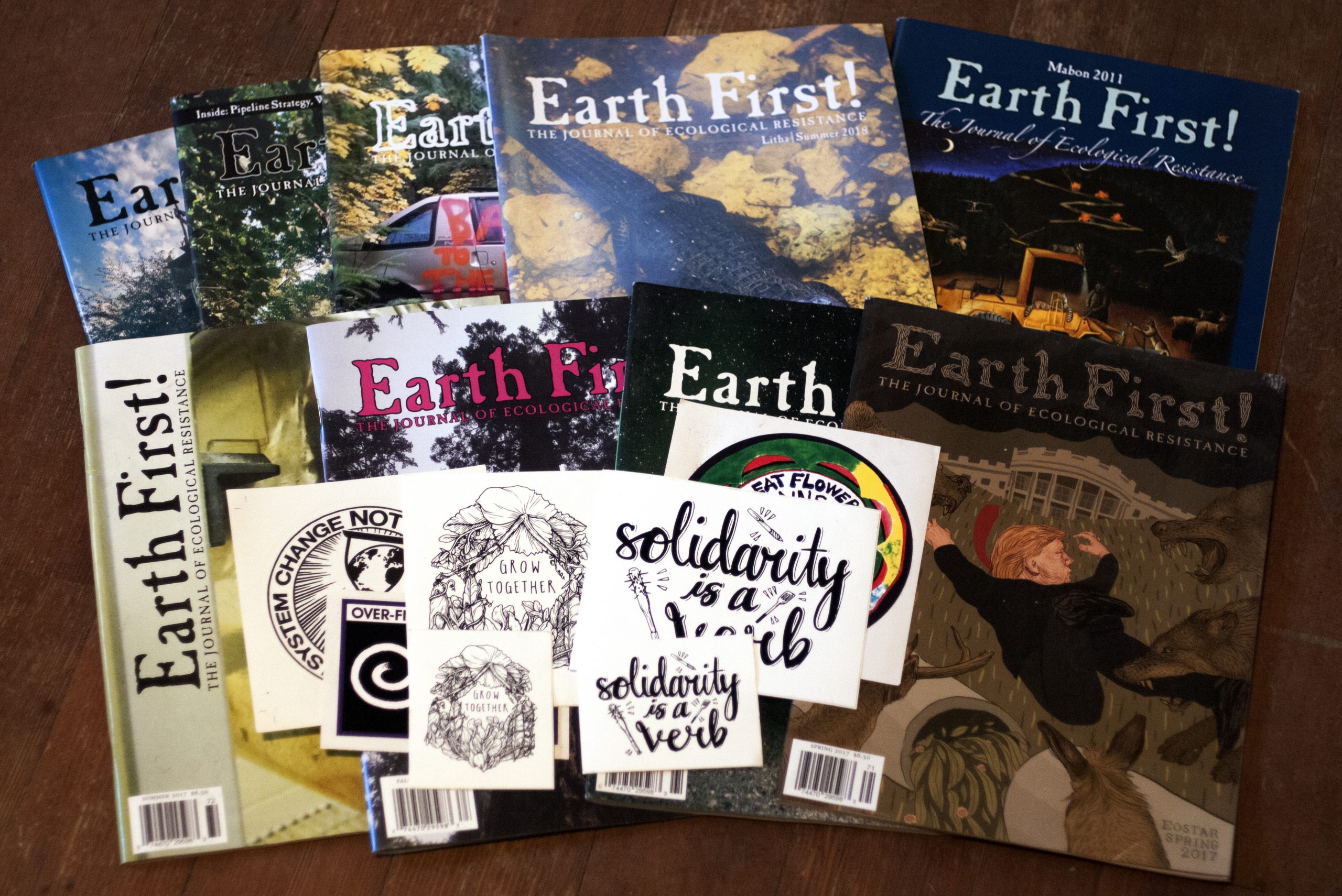 Another addition we have made to our offerings is a download of all of the PDF copies of the Journal from last year as a .zip compressed folder. For a $15 contribution through our online store you will get an instant download of the last four issues of the Earth First! Journal, the same files we use to print the magazine. You can buy it at this link: https://earthfirstjournal.news/product/2019-magazine-pdf-download-bundle/
These options won't be around forever. So if you have a bad case of cabin fever and can't wait for your super cool new EF!J magazine subscription to arrive, consider parting with some of your extra pandemic unemployment assistance funds for an Earth First! Journal digital download or surprise bundle. Before you know it, you'll start thinking of all the fun things there are to do in the woods at night. 😉
The Journal collective thanks you in advance for your support!
For the wild,
Raven, Earth First! Journal collective